TODAY: a couple HOPS, a handful of mini-topics, and a few thoughts.
HOP #1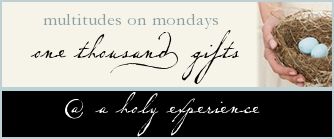 The above button is for a New To Me HOP. Listing things for which I am thankful. Gifts. Getting up to 1000.
Here is my list of 1,000 gifts numbers 1-10
-Facebook. Yes, facebook can be a gift and something for which to be thankful. Not just for keeping in touch with friends and family, and not just for being reunited with friends from the past, but today I am especially thankful for getting in touch with people I used to know and was not friends with back then- but becoming friends now, after all these years - and getting to see how God has been working in lives and taking the time to see how far we have all come.
-Health. A 'generic' sounding thanks, I know. But I am following it up with the particulars. Thanks that my husband's heart attack (about 6 yrs ago) was mild and there was no lasting damage. Thankful for his successful cyst removal surgery last week.
-Bracelet. My son made a bracelet for me, for Christmas. I love when the boys make things for me.
-Ninjas. The kind that cut cookies, anyway. Connor made Ninja Cookie Cutters for me.
-Future Ninjas. Ki gave me a pictorial list of different Ninja Cookie Cutter ideas from which to choose and he will make a couple cookie cutters, too
-modern transportation of groceries- so I can enjoy oranges and pears and other fruits and veggies out of season and out of local.
- Digital Camera. I love my digital camera that allows me to capture so many memories and moments. (with out the cost of buying new film and printing all 36 pictures just to get 10 good ones)
- boxes. Yes boxes. so I can pack and organize everything.
-plastic. it is fairly cheap, sturdy, colorful or clear- and allows me to be able to buy enough boxes to color code and organize things.
-Thrift Stores- A good place to get rid of our excess and a place to buy an extra pair of jeans for my boys who are growing like weeds and always seem to have outgrown everything, esp last minute.
NOW onto a few Thoughts:
Gavin has been out back shooting his new Air Soft Pellet Gun. It's a riffle of some sort. Brian and the 3 boys have been having a Magic Card Elimination Showdown. With all their new cards, between the 4 of them they had 18 decks. They made a flowchart of games and which deck won each. Winning Decks playing winning decks..... to see which decks are best. This may confuse you. That's OK. It confuses me, too. I will have to find out which deck won and let all of you know. That may clear up some of your confusion.
I played DICEcapades Sunday evening with my family. Connor can be a bit hard to handle with games. He debates everything. It's almost like a defense mechanism until he really gets nto the game and understands it. then he's all giggles and fun. He now know how to milk a cow backwards, though.
And Those Lists:
I love lists. on Sunday I made a list of all the things I wanted to talk about in my next blog. I think I'll keep the List as is and just fill it in with blogging. And, yes, I do this frequently. Make a little entry with reminders of what to blog or what links to include.
Juicer - It is once again time to get out the juicer and juice lots of fruits and veggies. I like to do lots of juicing for a week after 'big eating'. It helps me feel better. I need to get some baby spinach and pears & grapes. I have more than enough carrots. Not sure how we got so many carrots in this house. Strawberries are good in the juicer, too! but feels like a waste of a strawberry. I like to ad a little ginger root to the berry juices, too.
J-Term-It is almost time for J-Term to start. I have most of the CSI Class planned. I just need to review it so I can have everything needed for week 1 all gathered and in place. I need to get lesson plans for the other stuff though. Ki wants Culinary/Acting.(so probably alternating them every-other-day). Connor and Gavin will be doing computer Programming/animation.
Pilates- and Yoga. This is the exercise portion of my entry. I really want to do Yoga daily and get my Pilates DVD out, unwrap the cellophane, and actually USE IT. Not sure if I will get started today. But I plan on it. I'll let you all know.
12 Days of Christmas- We did this last year (or 2 years ago), too. The boys seem to like it. We don't put up our Chrostmas Tree until Christmas Eve, but we keep it up for the 12 Days of Christmas. On those 12 days we read the Christmas Story/Wise Men (from the Bible), sometimes do gifts. This year I am hiding the 3 wisemen. each boy finds one and then gets a small gift (from the Dollar Store or Dollar Bins at other stores). Then we Have KING CAKE for Epiphany! I think we will do the Feast of the Innocents this year, too.
Rocket launch in the yard- I'll do this one tomorrow.
http://myadventures-in-mommyland.blogspot.com/ mommy monday hop. A New To Me Blog Hop I am doing with this entry. So click the button, join the hop, make new friends!
~If you enjoyed my blog, please Click (you can vote daily)~